MASTER CLASS with composer Armand Amar

  Friday, March 27, 10:00 – 11:30 a.m.   //  FREE and open to the public
Music Composer Armand Amar: Weaving Influences While Forging a Pure, Personal Musical Language


The first part of my Master Class will be devoted to the relationship between film director and music composer, and to the challenges faced by these two creators during their collaboration. How to combine the wishes of the director without betraying your own aspirations as music composer? How to listen, how to understand what the director wants . . . or does not want?
 The second part of my presentation and discussion will focus on the richness, breadth and scope of the instruments and voices of our diverse world, their integration and utilization in orchestration without sounding exotic or orientalist.
Armand AMAR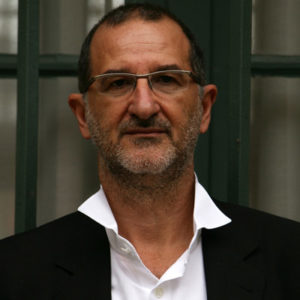 Photo credit: Françoise Jacquot
Armand Amar
French of Moroccan origin (although born in Jerusalem), Armand Amar spent his childhood in Morocco. Attracted by the sounds of instruments considered exotic at the time, the pull of that "world apart" soon fascinated him. Autodidact, he was constantly searching for new experiences. He learned how to play tablas, discovered the zarb and congas, and studied under various masters of traditional and classical music.
Armand's discovery of dance in 1976, was another decisive moment. Suddenly what he had been looking for was right there in front of him – a direct relationship to music, the power to improvise freely. Two adventures broadened his scope even further: his involvement in Patrice Chéreau's Actors' School and his teaching at the Conservatoire National Supérieur de Musique et de Danse. Since then, he has worked with various choreographers from different branches of contemporary dance.
The musical and spiritual influences at play show through in his film scores, among many others: AMEN (2000), Le Couperet (2005) and all the following films by Costa-Gavras. The Concert (winner of the César /Best Soundtrack of the Year Award 2009), Live and Become (2006), L'Histoire de l'amour (2016) and other films by Radu Mihaileanu. Indigènes (2006), by Rachid Bouchareb, Tu seras mon fils (2011), by Gilles Legrand, Home (2009), Planète Océans (2012) and Human (2015) by Yann Arthus-Bertrand. He composed the scores for the three Belle and Sebastien films. He received the Amanda Award/ Best soundtrack of the Year for the music of the Norwegian director Erik Poppe's movie A Thousand Times Goodnight. He recently wrote the music for Gilles de Maîstre's Mia et le lion blanc, Nicolas Vanier's Donne-moi des ailes and Emmanuel Hamon's Exfiltrés (2019). In 2020, a new film by Yann Arthus-Bertrand with a score by Armand Amar will be released: Woman.
In 1994, he co-founded with Alain Weber and the assistance of Peter Gabriel the record label Long Distance for world music. His own work is released through Naïve, Long Distance, Universal, Sony and Warner.
In June 2011, Armand Amar created, at the Festival of World Sacred Music, in Fès, Morocco, his first "oratorio mundi" named Leyla & Majnun, based on the eponymous legend. He uses a cast of forty singers and musicians from all over the world. The premiere performance was at Salle Pleyel, in Paris, and in February 2020 in Moscow at the Tchaikovsky Concert Hall.
In the Byrd Theatre, on Friday, March 27 at 4:00 p.m., Armand Amar with director Emmanuel Hamon will present their film Exfiltrés, and on Saturday, March 28 at 12:05 p.m. he will present Donne-moi des ailes by Nicolas Vanier.