MASTER CLASS & HOMAGE : Thierry Lhermitte
Thierry Lhermitte: A Heart Throb Pouring Laughter and Love Into Acting and Life


  Thursday, March 28, 2:30 – 4:00 p.m.   //  FREE and open to the public
with French actor Thierry Lhermitte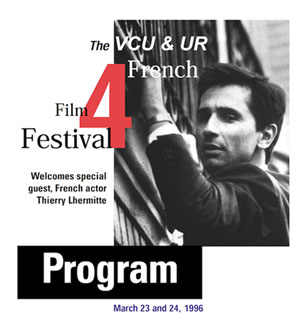 Twenty-three years ago, the VCU & UR French Film Festival audiences became too large for any of the cinema spaces on or near campus. That year 1996, the 4th Festival relocated its screenings into the Byrd Theatre and moreover it was also when the Festival decided to move from teleconferencing with the delegation members to inviting them to Richmond in-person. The first guest: actor Thierry Lhermitte, who came to present le film Le Zèbre directed Jean Poiret. Throughout the years, Thierry has been a faithful friend, an ambassador and advocate for our annual celebration of French cinema and culture. This year, it is quite fitting that we honor Thierry to return to the Byrd Theatre, accompanied by director Robin Sykes, to present their latest film La Finale, and to offer us this special Master Class.
In fact, one cannot honestly claim to know French film, theatre or culture if they are not familiar with Thierry Lhermitte, the actor, but also all that Thierry Lhermitte, the down-to-earth great guy, who does, away from the spotlights, so much for people.  This Master Class is designed so everyone can get to know Thierry and his career even better.  VCU & UR film students have created a short homage film tracing Thierry's career from the early days with the comic theatre troupe at Le Spendide, the stage and screen blockbuster hits and their sequels like Le Père Noël est une ordure, Les Bronzés, Les Ripoux up through his latest films like La Nouvelle Vie de Paul Snejider and La Finale.  The versatility and range of his acting for theatre and for cinema is only matched by his off-screen dedication to important charities, like his work for the last fourteen years with La Fondation pour la Recherche Médicale (FRM).
Thierry will give us a privileged look into his acting craft, the interaction he has had with a diverse range of directors, actors and actresses, and into what makes this icon of French cinema tick.
On Saturday, March 30th at 3:00 in the Byrd Theatre, Thierry Lhermitte with director Robin Sykes will present their film La Finale.